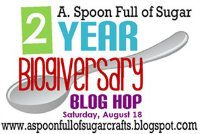 Annette Witherspoon
is celebrating two years of blogging today so she gathered some of her friends and is having a Blogiversary Blog Hop. Annette has two great prize packages to give away.
Stampendous
,
Pink by Design
and
a jillian vance design
are all sponsors so sit back and be prepared to be inspired. Please leave comments along the way.
I was so honored when Annette asked me to join in the fun. Our friendship began when she commented on my blog. We proceeded to comment back and forth and it wasn't long before we realized we live minutes from each other...a real 'small world' moment. Since then Annette has become one of my biggest cheerleaders. If you're not familiar with her, let me fill you in. She is kind and caring and lots of fun. She's the kind of person you always want to be around because she just makes you feel good. Her laugh is infectious. As a crafter, she is an incredible artist. I love her clean and simple style. Her sense of humor and love of life are apparent when you look at her art. She's the kind of blogger everyone wants as a friend. She spends a lot of time commenting and helping others fulfill their dreams. And believe me, she enables better than anyone.
So when I saw this new
Stampendous sentiment
, I knew I had to use it to create something to celebrate my friend. It's almost as if it is Annette's mantra. I created a canvas using lots of stamps, neocolor crayons, gesso, gelatos, pitt markers, glitter and embossing enamel (I linked the products I used at the end of my post). It's not a card but it is filled with love and well wishes. Congratulations Annette! May we all enjoy your
blog
for many years to come.
Here's the Hop List. Be prepared to be wowed. These ladies are my crafting idols!
Annette Witherspoon
Karen Baker
Bunny Vance
Jennifer Ingle
Melisa Alzammar
Annette Allen
Melinda Gleissner
Shelly Kingham
Sarah Hamer
Jocelyn Olson
Thanks for visiting.
Noteworthy Supplies: